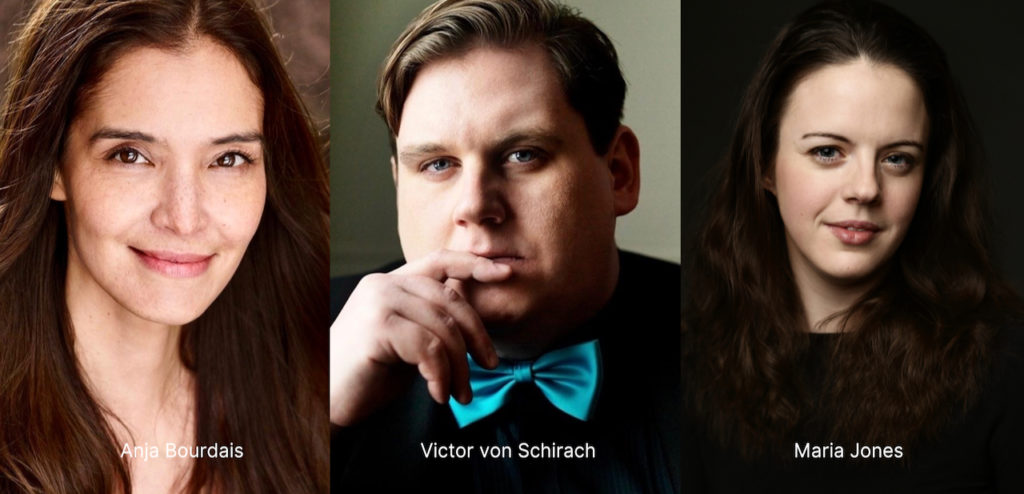 ACTORS + DIRECTORS
JUMP START YOUR CAREER AT CANNES ONLINE/OFFLINE 2021,
TIFF ONLINE/OFFLINE 2021 & AND BERLINALE OFFLINE 2022!
Do you want to set meetings with A-list directors and producers using festival databases from the comfort of home? Then join this online workshop!
During this 100-minute session, I share how to jump-start your career post-pandemic at Cannes online 2021, TIFF online/offline 2021, and Berlinale 2022, how to meet directors or producers who are right specifically for you, purchase the right badges to attend productive venues, access the festival database with over 63,000 professionals, circumvent #metoo toxicity, fight ageism and racism by booking meetings with enlightened production companies. A festival should be a solid stepping-stone in your trajectory, not just a chance to walk the red carpet. It is a magical opportunity to connect with collaborators who will launch your career and give you the jobs you so rightfully deserve.
The venues I cover are: the Marché du Film at Cannes, Cannes Doc, XR3, the Museum of Other Realities, the American Pavillion, Women in Film UK, 50/50 by 2020, Main Attraction Films, TIFF's Industry Conference, the Directors Guild of Canada at TIFF, WIFT-Toronto Gala, TIFF's Doc Conference, the European Film Market (EFM), Meet the Docs, the Producers Hub, Horizons, the Africa Hub, VR at the Mariott, Women in Film and TV Germany (WIFTG), Pro Quote Regie, the Medienboard Berlin-Brandenburg, the TV Drama Days, the Berlinale Talent Campus, and much more!
I will also discuss actors and directors presence at festivals, the importance of nationality and culture, languages spoken fluently, culturally defined skills, choosing your main genre, creating specific lists of professionals with whom you want to work, and preparing your reel or portfolio according to your cultural identity.
My aim with this workshop is to demystify Cannes, TIFF, and Berlinale, especially in the summer after the pandemic, when there is so much one can do from home. My aim is to break the festivals down into meaningful online and offline events, in order to help actors and directors create their own distinct strategy. This way they can meet the professionals who will truly match their artistic and professional goals and book jobs and/or secure financing for their projects.
After the lecture, I offer a 20-minute question and answer period, where participants can voice their individual concerns and hurdles! They will also have the chance to book a 5-hour private coaching with me and ask any questions about my one-on-one sessions. Let's rock the festivals!
Next workshop
June 11 or June 19, 2021 on Zoom
Time: 11am Los Angeles – 2pm NYC – 7pm London – 8pm Berlin
Duration: 100 minutes
Early Bird Price: Until June 8th, 75 Euros + 19% tax = 89,25 Euros
Late Price: After June 8th, 150 Euros + 19% tax = 178,50 Euros
Payment: PayPal preferred (carla@keptinsight.com)
Register here: carla@keptinsight.com
ACTORS + DIRECTORS WHO ARE STUCK !
LET'S CREATE A TAILOR-MADE PLAN
TO BOOK YOU JOBS IN NEW MARKETS
In my one-on-one sessions, in person or via zoom, I offer the following program to create a tailor-made plan to kickstart your career!
In the first meeting, we will meet for a 60 minutes review of your current reel, review of unused reel material, a full website analysis, analysis of your headshots, an in-depth analysis of your social media, and map out the genres upon which you want to focus.
In our second 60 minute session, we will analyze your family background, how it shaped you as an actor or director, define the highlights of your personal biography (vital for your presentation video), list your acting or directing skills, identifying your language abilities, identify the directors or producers with whom you want to work, define your unique identity to help shape your new reel, and create a festival strategy unique to your new USP (Unique Selling Point).
In the third shorter session of 45 minutes, we will talk about preparing for festivals in advance, how to hook directors or producers into a meeting, what to prepare for directors or producers during your meetings, how to craft follow-up emails to achieve results, how to nurture sustaining relationships, how to be accountable for your contacts at festivals, and how to create a festival bible that you will keep for your entire career.
In our fourth 60 minutes session, we will define the new dramaturgy of your reel as an actor or director, choose extra scenes for you to shoot, compose a text for your presentation video for both actors and directors, and plan the exact date when you will shoot the presentation video.
In our fifth session, I do an analysis of the new reel and presentation video, determine any re-shoots, and make sure it reflects the actor's or director's new USP and genre focus. Then I review the headshots, website, reel and presentation video as a package and we create a strategy in writing future directors or producers. Any fine tuning happens in this last session. By the end of this consultation, the actor or director will be set with a sustainable 3 year, tailor made strategy.
By the end of the session, each actor or director will have:
A new dramaturgy and outline for their existing reel.
A clear vision of their unique identity that defines their USP.
A social media presence, website, and headshots in alignment with their USP.
A festival strategy to meet directors and producers who are uniquely right for them.
A strategy about how to approach directors and producers before, during, after festivals.
The creation of a presentation video text that highlights who they are as artists.
Full review of the new reel based on their USP and genres focus.
A clear package to show film professionals who will book them as an actor or director.
Private coaching: 4 hours and 45 minutes
Price: 1000 Euros + 19% tax = 1190 Euros
Sylvia Mayer, Munich
In her workshop, the director Carla B. Guttmann skillfully managed to shed light on my current career situation. Even for actors who are already skilled at moving through German film festivals, this cultural analysis allows them to open their eyes beyond the German borders to other paths. She manages to provide the participant with strategies that can be tailored to their own personality and a step in the right direction. Without judging, she gives feedback on existing film reel material and encourages you to listen more closely to what exactly you want as an artist.
Stephanie Russ, Berlin
The work with Carla was a pleasure. Her experience inspired me to get ahead in my career. She helped me to see things clearly and structured! To move forward you need a plan – and Carla helped me with her open-minded and experiences in the industry. Our ways are individual and different – but with Carla as a coach, I found someone who listens and wants me to grow and achieve my dreams. She has a sense of happiness and knowledge combined with great empathy.
Henrik Norman, Stockholm
Were you ever at a film festival wondering what you're doing there? You don't have to be confused. Carla Guttmann will effectively guide you on how to prepare before you go and what to think about when you're at the festival. Her guidance is practical, clear-sighted, and encouraging!
Johannes Stenmarck, Stockholm
Carla's in-depth knowledge about the industry and private coaching has helped me to define myself as an actor, whom I should contact, and has help structure a clear plan of action for the next two-three years. Her guidance and ability to pick out my unique traits have really increased my confidence and enthusiasm for this business. Invaluable! I highly recommend a private session with Carla!
Alex Ekelöf, Stockholm
I'm so happy and thankful that I met with Carla for a private consultation about my acting career. She helped me look at my PR material with a different mindset and clarity. It made me pinpoint what direction to take and how to approach my career with a more thought through action plan. Loved our meeting and also the way she followed up afterwards. Highly recommend any actor – regardless of where they are in their acting career – to have a sit-down with Carla for this consultation.
Anja Bourdais, Berlin
Carla B. Guttmann's coaching helped me a lot! As a director with tremendous expertise, her heart is in the right place, and she has an unlimited enthusiasm. She brought me so far in my process that I was able to shoot with one of her initiated contacts. Top class!
Josephine Bauer, Stockholm
Carla is inspiring and creative in her coaching. She motivates female actors, in our vulnerable work environment, to find ourselves. She is a role model with her international network and experience in the film industry. Highly recommended!
Judith Shoemaker, Berlin
Carla showed me how to navigate film festivals with ease. As an actress it can be very overwhelming and she gave some hands on advice: which lists to use, whom to approach and how to approach them. Recommended!
Carolin Ott, Berlin
Carla's coaching is very inspiring. It encouraged me to keep following my instincts and also helped me find my USP. We mapped out my journey thus far and this was an eye-opening experience. I highly recommend her.
Matti Boustedt, Stockholm
Carla is a very inspiring coach, she helped me focus on where I should put my effort, in my career. Her knowledge of the film festivals is like gold for any actor. I really recommend her.
Cecilia Säverman, Stockholm
If you feel a little lost in your career or who you are as a film actor, I would like to recommend the director and coach Carla B. Guttmann. She goes through all one's material and guides you on your showreel, directors, and film festivals. I got coaching right before the pandemic. It has been very rewarding to get outer eyes on my entire film background and guidance on a clear direction ahead. Check her out!
Signe Elwin-Nowak, Stockholm
I would highly recommend anyone who's hoping for success within the entertainment industry. Carla is insightful, intelligent, and inspiring. After meeting Carla, I only had one thing to say: "Can we make you president?"

Cecilia Sandoval, Berlin/Buenos Aires
The lecture and analysis was very helpful for me, I came home with a lot of ideas and a bigger impulse. Carla B. Guttmann helped me to clarify my own path and to see my style. The information she gave me was very useful. I would definitely recommend her coaching to any actor.
Lottie Johansson, Stockholm
Carla helped me realize my niche and made me more certain on how to move forward in my career. A truly inspiring and motivating session!

Victor von Schirach, Stockholm
Carla's sharp eye motivated me to restructure my current personal branding and develop an individualized introductory video as an actor. She was the salt I needed on the slippery winter road towards success. With her clear guidance on how to approach specific directors with whom I want to work, her coaching has helped me tremendously during this precarious Covid-year. I truly recommend her!
Martin Rutegard, Stockholm
Carla made me understand who I am both as a person and as an actor. Not really knowing how to proceed, I received good guidance from her on how to get further in my career and to improve myself!