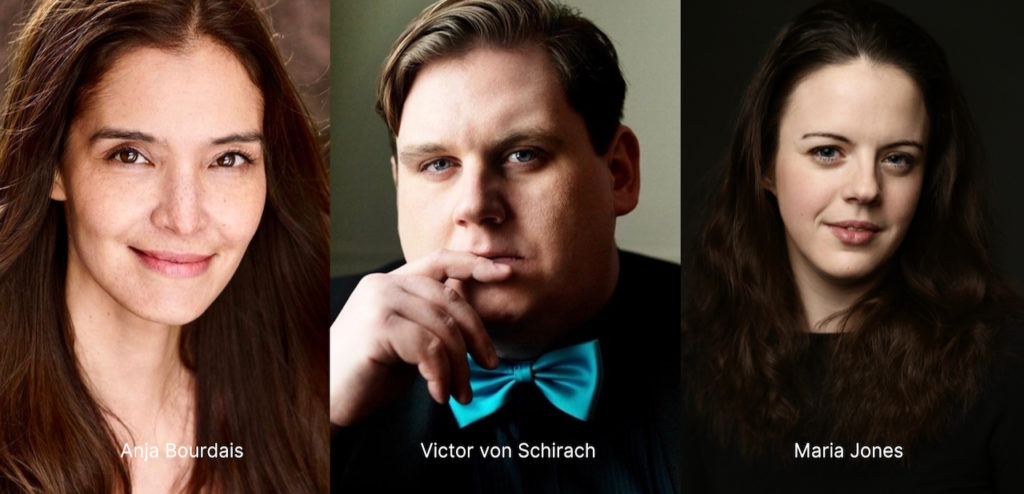 Berlinale and Cannes Bootcamp 2023
The BERLINALE AND CANNES BOOTCAMP 2023 prepares actors for two of the leading A-list festivals in the world. This week long bootcamp give actors strategies to put them directly in touch with directors, casting directors and agents by pre-booking 1:1 meetings using four different databases before the festivals begin. My main focus is Berlinale and Cannes, however beyond this bootcamp, I also prepare actors for TIFF, Gothenburg Film Festival, and The Gotham in NYC.
l've worked with actors from the US, Canada, the UK, Germany, Sweden, Denmark, Switzerland, Spain, Argentina, and Israel. I've helped change the outcome of their career and festival experiences by putting them in control of their results. Actors have signed with new agencies, met new international directors, and created casting opportunities for themselves while at A-list festivals. They now feel empowered and can use top festivals to push their career ahead without anyone's permission but their own.
Free info session with Q&A on January 4th, 2023 at 7-8 pm CET
(Contact for Zoom link)
Program Dates: Jan 9-13 & Jan 16, 2023
Time: 7-8 pm CET
Coaching: 60 minutes for 6 sessions plus Bonus Q&A
Regular Price: 850 Euros + 19% tax
This Bootcamp is funded in Germany by the GVL.de which provides a 30% subsidy
Stagepool Germany & Sweden Premium Members pay 760 Euros + 19% tax
Tax is excluded if a VAT number can be provided
Contact: carla@keptinsight.com
One hour private coaching
Do you want to meet for just an hour and discuss the most pressing issues in your career? Are you researching agencies or switching from a current one and want feedback on your headshots and reel? Are you heading to an international film festival and have no idea how to prepare your press release and festival strategy? Are your self-tapes not delivering you roles?
Then let's set up a one hour session and I will coach you through your most stubborn hurdles.
Price: 350 Euros + VAT
(With extra preparation & research add 100 Euros)
Duration: 60 mins
Contact: carla@keptinsight.com
CREATE AN IRRESISTIBLE ABOUT ME VIDEO
THAT SWAYS DIRECTORS & AGENTS IN THEIR CASTING!
In this one-on-one workshop, I will help you write a script about who you are as an actor and how acting has been a self-evident passion since childhood. Through this process, your higher objective as an actor will come to light, a motivation that will touch both directors and agents alike. This script will leave them with a deeper understanding of your drive and origins, while also making clear which archetypes and genres you want to master. This is key for both local and international productions when deciding on finalists for a role. This individualized script will place you leaps ahead of your competition.
"When I sent a top agent in the UK my About Me, he told me he had never seen such a powerful presentation video in his career. This was a script that I worked on with Carla including a one hour rehearsal, perfecting the text before I shot it on my own. With Carla, you will acquire that extra edge of recognition, and I couldn't recommend this workshop enough!"
-Maria Jones, actress, Stockholm
Price: 760 Euros + VAT
Duration: 4 hours
Contact: carla@keptinsight.com
Want to have one day with me as a coach to get you ready for some of the top festivals in the world?
Then book a VIP DAY with me.
I'll show you how to meet the buyers of your talent face to face! Don't wait for the work to come to you, be your own best ally and agent.
Over a full day, you will get 5 hours of private coaching with me. I will watch all your material, analyze your headshots and reel, rework your archetypes, set goals for the directors, agents, and casting directors you should meet, and create a tailor-made strategy for you to meet all these professionals 1:1 at A-list festivals, like Cannes, Berlinale, and Toronto.
Price : 1400 Euros + 19% tax within the EU, no tax outside the EU
Location: Online
Duration: 5 hours
Contact: carla@keptinsight.com
Private Coaching: 6 week program
JUMP START YOUR PORTFOLIO IN TIME FOR A-LIST FESTIVALS!
In this 6 week program, I will coach actors one on one for five hours and review your headshots, reel, IMDb, website, resumé, Spotlight, E-Talenta, Actors Access, and social media prior to our first session. The details of each session are as follows:
Session 1: We will see examples of effective headshots, identify your four strongest archetypes, create a backstory specific to you, prepare a concept for your next headshot shoot, and create an unmistakable strategy so that directors and casting directors know immediately who you should play.
Session 2: We will analyze your reel, get it into alignment with your two most dominant genres, carefully choose new scenes to shoot where needed, make sure your archetypes are visible in each genre, and create a reel that unmistakably shows directors and casting directors what roles you are designed to inhabit.
Session 3: We will review your biography on IMDb, website, resumé, Spotlight, E-Talenta, Actors Access, social media, and online presence. We will bring it in alignment with your USP, genres and archetypes.
Session 4: We will review your vision boards before your headshots take place, make sure your archetypes are nailed down, and review your newly cut reel.
Price: 2000 Euros + VAT (Payment in two installments is possible)
Duration: 6 weeks
Contact: carla@keptinsight.com
6 months private coaching
JUMP START YOUR CAREER AT A-LIST FESTIVALS ALL YEAR LONG!
Here you will get everything in sessions 1-4 from the 4-week program plus:
Session 5: We will identify your dream directors both locally and internationally and how you can come into contact with them at festivals or through zoom interviews. We will speak about how to approach them flawlessly via email and in person at festivals, as this is what will sell your craft.
Session 6: We will draft and write an About Me script that expresses your reasons for becoming an actor since childhood. This script will not only help you convince directors when it comes down to finalists for a lead but this is a sure-fire way to impress agents. We will create a vision board and concept for your About Me shoot. When available, I will offer my direction in the shooting of the About Me.
Session 7: We will watch and analyze your most recent auditions and self-tapes to determine where there are stumbling blocks. We will tackle these blocks in more texts and rehearsals.
Session 8: We will cover mindset approaches and overcoming inner hurdles. Why are you not yet successful according to your own principles in the film industry? We will break down debilitating mind blocks to get you past them.
Session 9: I will guide you on writing your Mission Statement as an artist which you will draw upon when meeting directors. You will go into granular detail about how you want to work on set, your aesthetic principles, and ethical conditions in order to produce high caliber work.
Session 10: We will identify which actors you want to emulate and why. We will look at who is representing them and how to get in touch with these top managers and agents.
Session 11: I will coach you on the ground during the Berlinale, Cannes, or TIFF, helping you overcome any obstacles and coach you so you can ace your meetings, solidify your contacts, and make sure you have an absolutely productive festival experience with new directors and opportunities.
Session 12: We will review and track your progress at month 6, look at your feedback from directors, casting directors, and agents. I will analyze your correspondences, see where your strategy needs to be adjusted and get you over any lingering mental hurdles to give you the support to stay on track and celebrate your successes thus far.
Session 13: We will review and track your progress at Month 9 and see if we need to reach out to other agencies in different countries? Do you want to apply for a US green card in the lottery? We will solve any pressing issues that you want to change now.
Session 14: We will review and track your progress at Month 12. Have we missed any opportunities to help advance your career? Can I connect you to directors whom I know personally and professionally? Have you changed and seen your career change with you?
This six-month-long coaching will provide you with continued support otherwise unheard of in the film industry on a regular and consistent basis. I give each actor my full attention and promise to guide them towards a greater international outcome and profound acting career.
Price: 5800 Euros + VAT (Payment in six installments is possible)
Duration: 6 months
Contact: carla@keptinsight.com
Sylvia Mayer, Munich
In her workshop, the director Carla B. Guttmann skillfully managed to shed light on my current career situation. Even for actors who are already skilled at moving through German film festivals, this cultural analysis allows them to open their eyes beyond the German borders to other paths. She manages to provide the participant with strategies that can be tailored to their own personality and a step in the right direction. Without judging, she gives feedback on existing film reel material and encourages you to listen more closely to what exactly you want as an artist.
Stephanie Russ, Berlin
The work with Carla was a pleasure. Her experience inspired me to get ahead in my career. She helped me to see things clearly and structured! To move forward you need a plan – and Carla helped me with her open-minded and experiences in the industry. Our ways are individual and different – but with Carla as a coach, I found someone who listens and wants me to grow and achieve my dreams. She has a sense of happiness and knowledge combined with great empathy.
Henrik Norman, Stockholm
Were you ever at a film festival wondering what you're doing there? You don't have to be confused. Carla Guttmann will effectively guide you on how to prepare before you go and what to think about when you're at the festival. Her guidance is practical, clear-sighted, and encouraging!
Johannes Stenmarck, Stockholm
Carla's in-depth knowledge about the industry and private coaching has helped me to define myself as an actor, whom I should contact, and has help structure a clear plan of action for the next two-three years. Her guidance and ability to pick out my unique traits have really increased my confidence and enthusiasm for this business. Invaluable! I highly recommend a private session with Carla!
Alex Ekelöf, Stockholm
I'm so happy and thankful that I met with Carla for a private consultation about my acting career. She helped me look at my PR material with a different mindset and clarity. It made me pinpoint what direction to take and how to approach my career with a more thought through action plan. Loved our meeting and also the way she followed up afterwards. Highly recommend any actor – regardless of where they are in their acting career – to have a sit-down with Carla for this consultation.
Anja Bourdais, Berlin
Carla B. Guttmann's coaching helped me a lot! As a director with tremendous expertise, her heart is in the right place, and she has an unlimited enthusiasm. She brought me so far in my process that I was able to shoot with one of her initiated contacts. Top class!
Josephine Bauer, Stockholm
Carla is inspiring and creative in her coaching. She motivates female actors, in our vulnerable work environment, to find ourselves. She is a role model with her international network and experience in the film industry. Highly recommended!
Maria Jones, Stockholm
I love how Carla showed me the spine of who I am in our private coaching, through my history, my skills, and the aspects of my trade that bring me joy. It was wonderful to share Carla's immense knowledge and experience of the industry and see it from her point of view. It was incredibly useful to get concrete points to start researching directors I'd like to work with and for once, I feel like I have a way forward.
Signe Elwin-Nowak, Stockholm
I would highly recommend anyone who's hoping for success within the entertainment industry to attend her Festival Master Class. Carla is insightful, intelligent, and inspiring. After meeting Carla, I only had one thing to say: "Can we make you president?"
J Nycole Ralph, Los Angeles/New York
Your workshop today was incredibly helpful. I love going to film festivals just because I love the art, the networking, the fellowship, and quite honestly the partying; but now, after your workshop, I feel that I have a really focused way to approach them and get the most out of my time and money at these festivals! I really think this is going to be a gamechanger for my career. Thank you SO so much!!
Nicole Meier, Los Angeles
Carla's A-List Festival Workshop was super informative! I got action points for myself as an actor on how to proceed next and pitfalls to avoid while attending those festivals. The intimate Q & A afterwards was super helpful and there's a lot of time for everyone to ask questions!
Lottie Johansson, Stockholm
Carla helped me realize my niche and made me more certain on how to move forward in my career. A truly inspiring and motivating session!
Judith Shoemaker, Berlin
Carla showed me how to navigate film festivals with ease. As an actress it can be very overwhelming and she gave some hands on advice: which lists to use, whom to approach and how to approach them. Recommended!
Carolin Ott, Berlin
Carla's coaching is very inspiring. It encouraged me to keep following my instincts and also helped me find my USP. We mapped out my journey thus far and this was an eye-opening experience. I highly recommend her.
Matti Boustedt, Stockholm
Carla is a very inspiring coach, she helped me focus on where I should put my effort, in my career. Her knowledge of the film festivals is like gold for any actor. I really recommend her.
Cecilia Säverman, Stockholm
If you feel a little lost in your career or who you are as a film actor, I would like to recommend the director and coach Carla B. Guttmann. She goes through all one's material and guides you on your showreel, directors, and film festivals. I got coaching right before the pandemic. It has been very rewarding to get outer eyes on my entire film background and guidance on a clear direction ahead. Check her out!
Signe Elwin-Nowak, Stockholm
I recently took part in Carla's new five hour private coaching! First of all, this is five (!) hours of coaching and looking at the price tag it might seem like a lot of money and that's scary… but let me tell you: you get so much more than those five hours. Sure, you'll pay for five sessions but what you don't have to pay for is the additional hours that Carla dedicates to you, your brand and your material. In my case, I know she spent several hours leading up to our sessions reviewing my stuff and figuring out the best path and individual strategy for me. And you really can't put a price on that, it's invaluable!
As for the coaching, I've now completed four out of five sessions. Because I was short on time and wanted to do it sooner rather than later she agreed to do it over zoom and it worked out perfectly. The details of what each session includes is written on her website and you can trust that that's exactly what you'll get (and more).
I've been in this industry for most of my adult life and Carla offered me a new fresh perspective on my own craft and the industry as a whole. She has decades of experience and it definitely shows! Whatever you think you know, she'll know a little bit more. It's exhilarating! I learned to understand my background, my strengths and who I am as an actor, but also as a person. To concretize my goals and dreams to make them a reality.
I'm really not one to write reviews but I've done the trial and error thing when it comes to acting schools, teachers, coaches, classes, workshops – you name it. I can surely say that my coaching with Carla will be the most well spent money of this year. I hope you all get a chance to do this for yourselves at one point or another!

Cecilia Sandoval, Berlin/Buenos Aires
The lecture and analysis was very helpful for me, I came home with a lot of ideas and a bigger impulse. Carla B. Guttmann helped me to clarify my own path and to see my style. The information she gave me was very useful. I would definitely recommend her coaching to any actor.

Victor von Schirach, Stockholm
Carla's sharp eye motivated me to restructure my current personal branding and develop an individualized introductory video as an actor. She was the salt I needed on the slippery winter road towards success. With her clear guidance on how to approach specific directors with whom I want to work, her coaching has helped me tremendously during this precarious Covid-year. I truly recommend her!
Martin Rutegard, Stockholm
Carla made me understand who I am both as a person and as an actor. Not really knowing how to proceed, I received good guidance from her on how to get further in my career and to improve myself!
Lydia Leist, Stuttgart
I gained a lot of information and insight from Carla's workshop about three of the biggest film festivals: Cannes, Berlinale, and TIFF. For example, how to register for a festival like Cannes and which events I should attend. The most valuable information was how to prepare for a festival in advance and what goals I can and should set as an actress! That gave me a lot of clarity and confidence about my work!
Ola Wallinder, Stockholm
Uplifting, invigorating and inspiring! Carla is awesome! Just do the workshop – you won't regret it!